Simple 40th Birthday Card
Simple 40th Birthday Card

Making a 40th Birthday card for him?
Sporting a black postage frame, this happy birthday greeting card is just the right card design for a guy who likes the simple and clean look.
Note: Just click on any image below to zoom in and view all the images on this page in a gallery.
All you need to make this birthday greeting card is a sheet of kraft paper.
I used International paper size - A4 as that's our standard paper size over here in Singapore.

If you like this design, but do not have or do not want to print on kraft card stock, you can use coloured cardstock like pink, violet, orange, green, cream or even white.
If you are in the United States, I believe you use Letter size paper. It's alright if you do not scale to fit your paper size but print the Birthday card template as it is at 100 percent.

Make this 40th Birthday Card
Card Making Supplies Needed:
Kraft cardstock A4 size
Card Template
Printer
Trimmer or z-acto knife
Ruler and bone folder
Pencil
Card Making Directions: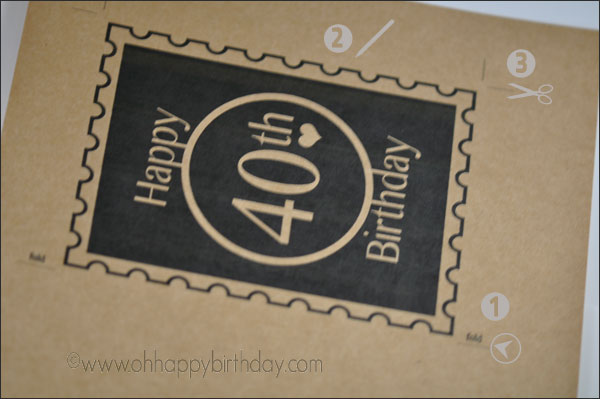 Fold and Cut
Print onto kraft or coloured card
Use ruler and bone folder to score the centre fold line for a nice clean crisp fold. (refer image step1)
Draw with a light pencil and ruler lines where you need to cut (refer image step 2)
Cut with paper trimmer or use an x-acto knife against a steel ruler on a cutting mat. (refer image step 3)
Fold the card and crisp with the bone folder or the back of your thumb nail
Card-making Tip!
Don't have a bone folder?  A used ball-point pen can do the job too.  Just make sure that it has no ink at all.
When folded, this 40th birthday greeting card is 4.25 inch by 5 and a half inch in size and will fix into an A2 size envelope (4.3/8" x 5.3/8")
Finally! A Postage Stamp Design Card
Other Variations
Okay! I know that not everyone likes the brown kraft look although I love it so much and use it very often in making my greeting cards.
If you don't like the colour of the kraft card stock, just use any other coloured card stock of your preference; pink, blue or violet and you will get a totally different look but with the same black print.
Try it! It's worth experimenting:-)

---
Facebook Comments...Add Yours!