Happy 40th Birthday Cards
Free Printable Greeting Cards
Download & Print
Looking for 40th Birthday cards?
Your search ends here:-)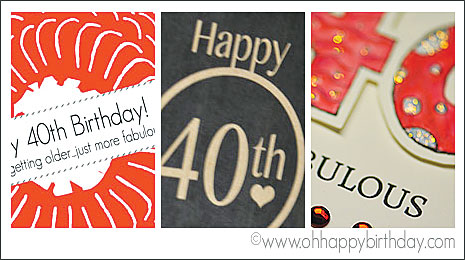 Herein you will find a whole collection of 40th birthday greeting cards for you to browse for inspiration, to quickly download a free printable card before you dash out to a 40th birthday party of a friend, a business associate or family member.
Reaching 40 is a big milestone in the life of the birthday gal or guy. Not all of us want to quickly reach this age because the number 4 - 0 looks and sounds very daunting.

Scroll down to view the whole collection of 40th birthday greeting cards
For the birthday person, it's like throwing the door wide open to all kinds of threatening situations and dilemmas. 40 is a BIG number and not all of us want to reach there fast. Some would prefer to just stay at 38th or even 39th but 40th... oh no!
To make celebrating ones 40th birthday without feeling fearful and apprehensive, let us send the birthday person something bright or funny and upbeat so that he or she won't be so unnerved by the thought of his/her approaching 40th birthday.

Create some 40th birthday cards with rubber stamps, clip-arts or your own doodles and have fun embellishing them to make them bright, sparkling, cheery and full of fun thus making the 40th milestone non threatening but enthusiastically jolly.
Alternately, you could download all the free printable greeting cards on this Oh Happy Birthday website and keep them at hand for any emergency use. 
Only promise me that you will not sell them though.

Please note that these happy 40th birthday greeting cards are strictly for your personal use only. So do not use these free printable greeting cards to sell online or off-line; whether as it is or as printed cards.
Happy 40th Birthday Cards
---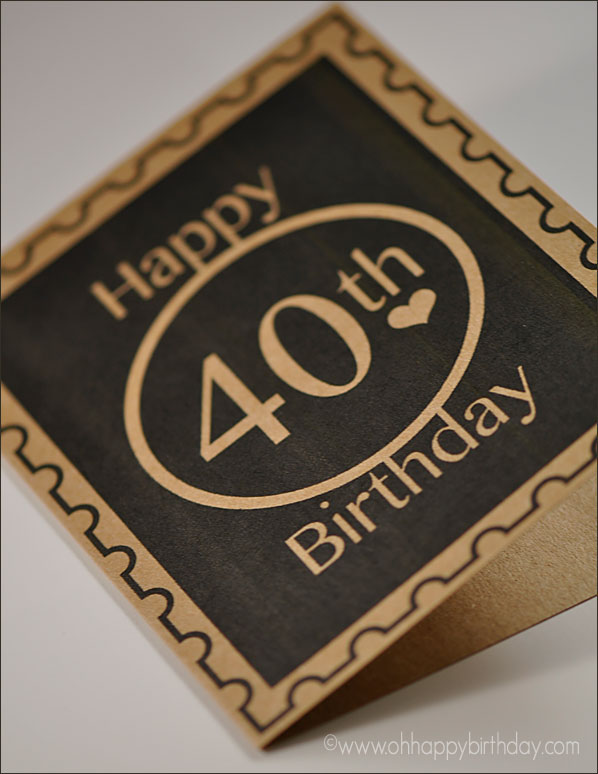 This is for him - black words printed on kraft card stock. Change the coloured card and you get a different look.
---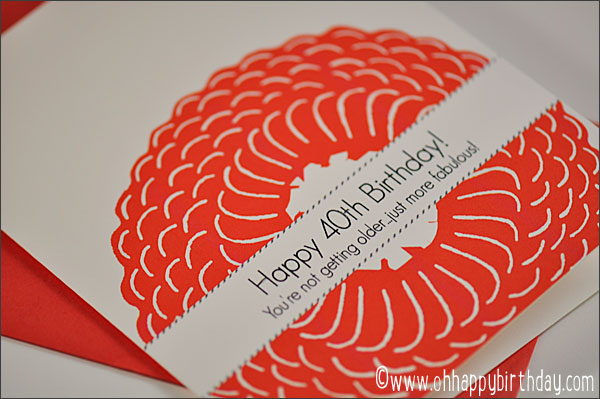 Japanese woodcut flower design makes this a vibrant birthday greeting for a 40 year old gal.
---
More birthday cards specially designed for you to print and send for all people in your life who has reached the 40 milestone will be added here as soon as I'm inspired to create them. So bookmark this ohhappybirthday.com website and keep a lookout for new 40th birthday greeting cards.
---
Share Your Thoughts About This Article
Do let me know what you think about these birthday greeting cards.
Or do you have any kind of design that you would like to see here on this birthday celebration website?
Or questions...?
Let me know. I love to hear from you.
Facebook Comments...Add Yours!