Happy Birthday Cards for Him
Masculine Cards for Guys
Birthday cards for him is where you can find birthday greeting cards for guys. Yes, these are masculine cards for the macho man in your life :-)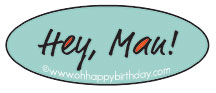 FREE Download!
Scroll down to download free framed birthday greetings
Whether you are thinking of sending birthday wishes to your husband, son, brother or a boyfriend, this is where you will get ideas and inspiration to create your own handmade greeting cards for either one of them.
Happy Birthday Cards for Him
I wonder whether you are like me, have troubles thinking of card designs for guys' cards. To me, they are the most challenging activities for me. I love making cards for her which are so much easier and fun, in my opinion. 
Why?
I guess it's because I always think of man's cards as rather boring with a limited palette of colour choices. Whereas, cards for women are more colourful and we tend to have a wider choice of clipart to choose from. But then, when I really sit down and give it some thoughts, I think there are ways we can make cards for him more interesting.
In the days ahead, I will be adding various design cards here for you. Hopefully, I will also be able to supply you with the needed materials but you can always substitute with your own since these are mostly for your inspiration.
Birthday Cards for Husband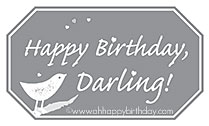 These will be birthday wishes for your darling husbands so you might want to add your own hand-drawn arts or some elements that are known only to both of you.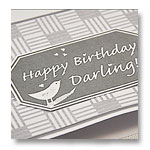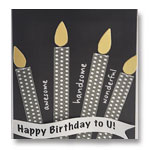 View the above 2 birthday cards for husband
---
Birthday Cards for Him - Boyfriend
Cards for boyfriends and those for husbands are quite similar; lots of hearts and kisses. Designs are also quite similar to Valentine's Day cards.
Would be interesting to create some card designs and upload them here. Yes, I'm really looking forward to making those.
---
For Dad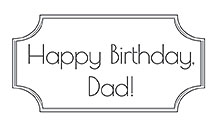 Most birthday cards for dad are made by kids and show pictures of fathers as perceived by the children - most likely these are stick drawings rendered by the children's own hands. To the dad who received his child's hand-drawn picture of himself, it could be the most beautiful and precious drawing in the world.
I'm not sure about adults making birthday cards for their dads. But won't it be so touching and memorable for an ageing or not too old father to receive a handmade card from his grown children too?
---
For Grandpa
Grandfathers love receiving presents and birthday cards from their grandchildren. What would be the best card designs for grandfathers? 
My grandpa wasn't like the present grandpas of young children today. He was not an approachable person but rather stern and distant from us.
We were not even allowed to talk at meal times. I can still remember seeing him writing letters to his mother in China. He used a Chinese calligraphy brush and every time he writes a letter, he had to spend some time preparing the ink. I always wanted to see what he was writing but dared not go near him.
Thinking back, I wish that he was more approachable and that I could learn Chinese calligraphy from him.
---
For A Son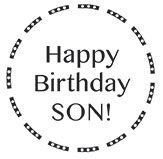 For a mother, making a birthday card for a son is not just a work of art but also a time of remembering all he was and what he is now. It would not just be pride in the finished card but also the pride in knowing that she has raised him good and taught him well. So much memories! So much love!
---
For a Brother
Making a birthday card for a brother...hmmm... What is his likes and dislikes? His hobbies or interests? You will most likely be taking all these into consideration as you prepare to make your brother a birthday greeting card.
---
Download: Words for Happy Birthday Cards for Him
You saw all the little framed graphics on this page, right? Well, I created those and think you might find them useful for making your own handmade cards. Here is the pdf document you can download and print out. After printing on white or design paper, you can trim around the image and layer it on top of your design.
---
Facebook Comments...Add Yours!