Kids Birthday Cards & Invitations
For kids birthday is a time to celebrate; have fun, play games and receive lots of birthday presents.
Planning and preparation for the birthday party are mostly taken care of by the adults; usually the mother. But it is good to have the children involved in the pre-celebration tasks too. For example, making the birthday invitations and decorations if the kid is old enough to help make the cards and other DIY stuff.
Whether it is making a birthday card for a friend or making birthday party invitations for the kid's birthday, discuss about the card design and maybe your child might want to draw something to include in the design.
If your child is too young, then of course, you'll have to do all the works from designing the card to making them. 
This ohhappybirthday website hopes to be of help to overworked moms of young children. Planning a birthday party for a child is hard work. If you need, there are free printable birthday cards and birthday party invitations here that you can download and print.
Birthday invitation cards will be posted on a page by itself separate from Birthday greeting cards. I will be making lots of designs for each category with free printable cards and invitations. This way, you will not have to scroll down too much to find a suitable card for this special occasion.
Kids Birthday Cards

Happy Birthday Cards for Both Boys And Girls
Below are some cards that will be suitable for both boys and girls.
For more girls' cards, check out this birthday cards for girls page where the cards are made specially for girls with flowers, pink, violet, shim and glitters - all things most girls love.
Ripples Card
A Make-a-Ripple kind of card using a die cut panel and cut-outs from another piece cut from the same die but in a contrasting colour.
Click here to view and read more about this greeting card.
---
Best Wishes for a Birthday Child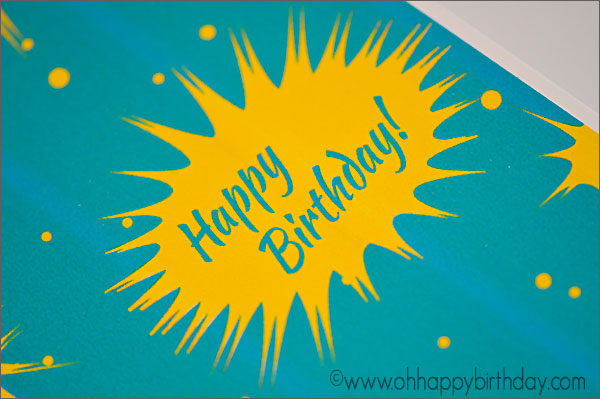 Just a simple card with the birthday greetings, "Happy Birthday" and some design elements that convey action and fun with a blue/yellow colour combo.
You can download this free printable card here.
---
8-Points Star Card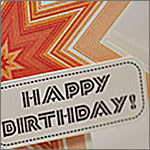 This is one cool birthday card that's suitable to send to anyone. Boys and girls will love this star card with 8 points. The bright colours used on this card will bring a smile to the birthday girl or boy. It's even great for an adult birthday greeting card. Have a look here.
---
Hopefully, I will have more card designs for you so that you can choose one that suits your child's birthday theme. Whether it's a card with Mickey mouse, pandas, batman, or even just a uniquely one-of-a-kind design, I hope to get you covered. But do bear with me as I'm just one crafter working on one card at a time.
---
Facebook Comments...Add Yours!