Belated Birthday Wishes
Better Late Than Never
I sent a belated birthday card to a friend about four days late.
Added to that, the time the mail will get to her, I guess she will receive it maybe in another week time.
So my birthday greetings come at least ten days later.
Oh no! :-(
Note that you can click on any image on this page for an expanded or gallery view.
"It's better to be late than never."

Have you ever heard this words?
This is a phrase I remember and hold to since young.
We are human so we forget. And then even if we remember, we might have so many things on our plate and had no opportunity to buy or make a card to wish our dear friends "Happy Birthday!"
But the moment we remember and have time to rush out to the shop to buy a card or go into our art room to create a one-of-a-kind handmade card, we should not feel that it's too late so let's just forget it.
Rather, dedicate some time to buy or make this special birthday card and sent it on its way with prayer and blessings.
And this is what I did. A simple card that only takes less than half an hour to complete.
Belated Birthday Wishes For A Friend
My friend actually favors white and pink or I should say pastel colors. But I decided to make her the above kind of collage style card with a mutual favorite item in the design - BUTTERFLY!
I love butterflies and I know she loves them too. This knowledge I gathered from the cards she made. Right, Valerie? :-) I hope you like what I made for you.
Here's another view of the Happy Birthday greeting card.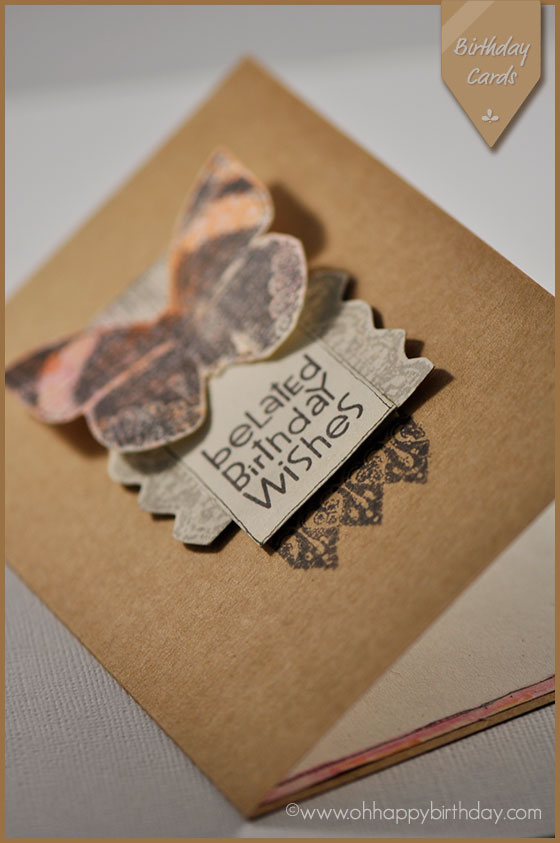 Inside The Card
And below is the inside of the card. I added a piece of 120 gsm speckled card stock and trimmed it to about 0.5 cm smaller than the size of a folded card and attached it to the inside of the card with doubled-sided adhesive tape.
Then I doodled a frame and add a touch of pink with my colour marker and blender pen. By the way, if you need the blender pen refill recipe, click here to get it.

Don't have any appropriate rubber stamp for your card message and not sure what to write inside the card? Download some birthday card inserts for the inside of your handmade birthday greeting cards. All you need is cut and paste them on the place where the message should go.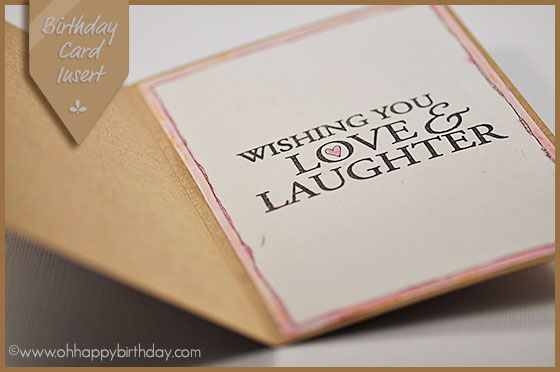 Stamps Credit
Stamps used for this belated greetings are as follows:
Wishing you Love & Laughter by Hero Arts
Belated Birthday Wishes by Paper Smooches
Butterfly, lace border by Unknown (Sorry! But I looked again and again at the packaging and there isn't any indication of who's the manufacturer is and where these stamps were created. They are all clear stamps in a recycled A4 size envelope.)
Your Feedback Is Appreciated
Let me know what you think about this handmade birthday card. Just comment below.
And what about you? Would you make and send a card even though you are ten or more days late?
Would love to hear from you. Do share your view by adding your comment below.
---
Facebook Comments...Add Yours!