Card for a Birthday Boy
For a spirited birthday boy, a vibrant and lively Happy Birthday card was created with two happy colours; turquoise and bright yellow.
This happy birthday greeting card is very simple to make and can be done in less than 10 minutes. It will be handy if your boy needs a quick card to give to his classmate or cousin. 
You can just print it out, score and fold then trim as marked on the template. Or you can embellished it with a bit of glitter glue on a few of the dots just to make it sparkle.

Card Making Materials Needed:
A4 or letter size white card stock
Colour printer
Birthday card template
pencil
steel ruler
paper cutter or x-acto knife
glitter glue (optional)
bone folder or empty ball-point pen
cutting mat
eraser
corner rounder 1/4"
Card Making Instructions
If you are using letter size card stock, please do not scale the image when printing. It should be left to print at 100 percent
Print on a coloured printer with the white card stock
Use a pencil to lightly draw cutting lines around the edges of the card following the marks provided on the template
Score a impression on the fold line with the bone folder or empty ball-point pen against a steel ruler
Make a crisp fold with the bone folder or the back of your thumb
Trim the card along the drawn pencil lines.
Erase unwanted lines when you have finished cutting out the card
Use a 1/4" corner rounder to cut the four corners of the birthday card. If you don't have a corner rounder, just use a pair of sharp scissors to slightly round the corners
Use a toothpick to embellish the birthday greeting card by applying glitter glue to the dots to make the card sparkle for the birthday boy. Don't over-embellish! Just apply on a few dots will do.
Make sure the glue dries before letting your son write a birthday message inside the card for the card recipient.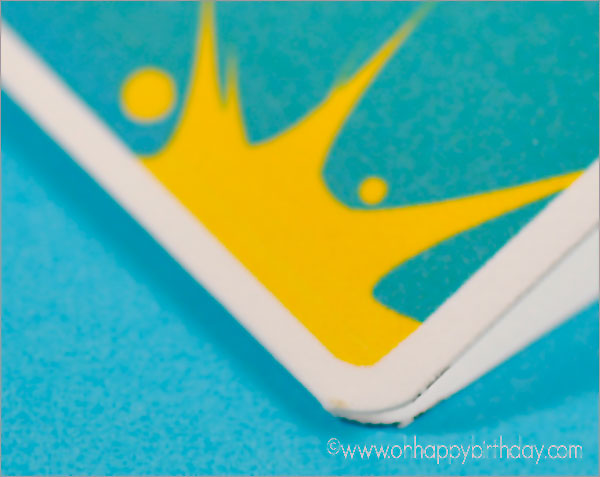 Slightly round the four corners of the Birthday card. Check corner rounder and make sure it's clean before punching. Notice how dirty mine is.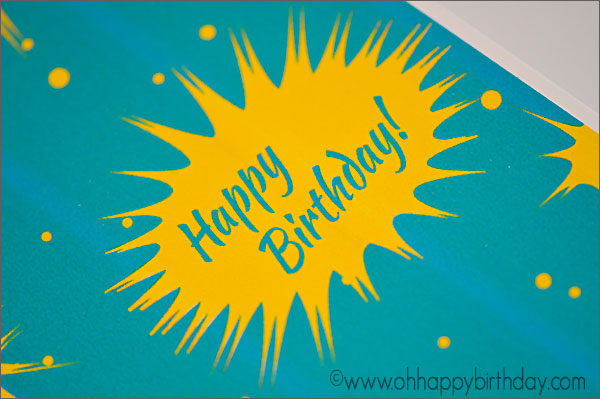 Happy Birthday with a big bang! Vibrant colour combo makes this a very suitable birthday greeting card for a energetic little boy.
---
Share Your Thought About This Birthday Boy Card
Any feedback...question...or suggestion?
Love to hear from you.
Facebook Comments...Add Yours!