Birthday Cards for Husbands
Birthday Cards for Husband
Let's make it personal!
I tried making some birthday cards for husband as examples for you to help you jumpstart your special card for your beloved.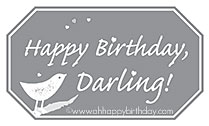 Well, I have to tell you that it's not easy. First, I'm not married and second, I don't know what kind of person your husband is; his likes and dislikes and all his peculiar mannerism which make him unique and make him attractive to you. :-)
But I guess I can try.
Click on any image on this page for gallery and expanded view of all the birthday cards/celebration images within this article.
So here are two examples of birthday cards for husband that I came up with. I don't know. But I seem to lean towards gray, silver and black. Anyway, this is just to inspire you to make your own for your other half's special day.
I'm very sure that you will do a better job incorporating his favorite colors and things he likes.
Birthday Cards for Husband #1
The first card was made using some design paper I created. You can find this paper here. 
The framed Happy Birthday Darling with the bird on a branch label is a free file. It can be downloaded here.(Just scroll down to the end of the page and you will see the download link there.)
All I did was print the design paper on smooth white cardstock, cut to the right size for the front of a folded card. I also cut a gray piece of card about 1/8" bigger all around the sides than the design paper.
Layered the design paper over the solid gray one.
Cut a strip of the gray paper and layered over a white strip of cardstock to make a strap. On top of this strap, I placed the label to the right.
Finally, glue the whole thing onto the front of a white card and drew some tiny hearts with a white gel pen.
Card No 2 : Birthday Candles
This is the second Happy Birthday cards for husband made. Nothing fantastic. Just some lighted candles with the birthday greetings kind of hanging across and handwritten descriptive words; awesome, handsome, wonderful.
The candles were cut out strips from another of my own designed paper.
I hope you will be inspired to make one for your man on his special day.
After seeing my creations, I'm sure you will say to yourself; "Hmm, I think I can do that." Or "I got an idea!" Or even better! "I got a better idea!" Whatever it is, go and do it. You can, you know.
Other descriptive words you can use:
cool guy
macho man
gorgeous
amazing
fabulous
Praises for your husband:
You light up my life
My one and only.
My love. My life. My laughter. My soulmate.
Words on the front of the card:
to My Husband on your birthday
My Wonderful Husband
Husband! Every year I fall more in love with you.
For My Beloved. Happy Birthday!
Have fun!:-)
---
Facebook Comments...Add Yours!