Cool Birthday Cards For You
To Download and Print
Print out these cool birthday cards using the free templates provided and make a couple of Happy Birthday greeting cards for those occasions when you need one in a hurry and don't have time to buy or create one.
Note:
You can click on any image on this page to view all the large images in gallery view.
The above 8-points star card was created on Adobe Illustrator using one of the shape tools. You guess it!;-) The star shape tool. It was a really cool tool and I was able to make some real cool birthday cards using just this one shape. I coloured this star with a gradient of red, orange and yellow colours and the result is a vector graphic that can be placed into a card template for a printable Happy Birthday card.
Making These Cool Birthday Cards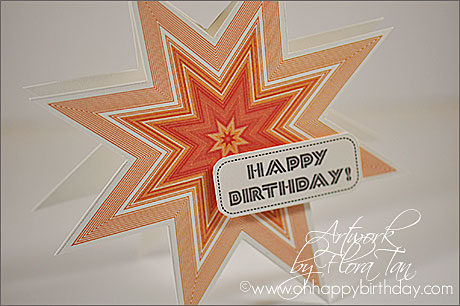 Happy Birthday! Bright Orangey Colour
I have provided 2 files for you to download and print on your colour printer. One of them is in pdf and all you need is the latest Adobe Reader to open it. The other is a jpg file that you can print straight from your printer. Just download the zip file below to get them.
Inside the zip file, you will find:
8-Points Star Happy Birthday Card (a card template in pdf)
8-Points Star and Birthday Greetings (jpg)
Read first text file
Supplies Needed:
White card stocks (A4 or Letter Size)
Colour Printer
Scissors
X-acto knife
Steel ruler
Pencil
Double-sided foam tape
Score tool or a empty ballpoint pen to score fold line
Directions: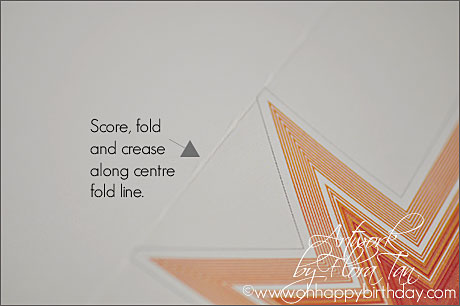 Score & Fold
Print the card temple onto a sheet  of A4 or Letter size white card.
Score line on the indicated fold line.
Fold and crease.
Use an x-acto knife and steel ruler to cut out the star leaving a .25" border all around it.
Make sure you do not cut the two folded points.
Cut and trim around the Happy Birthday! rounded rectangle giving a 1/8" border.
Apply doubled-sided foam tape and paste on the lower right of the star.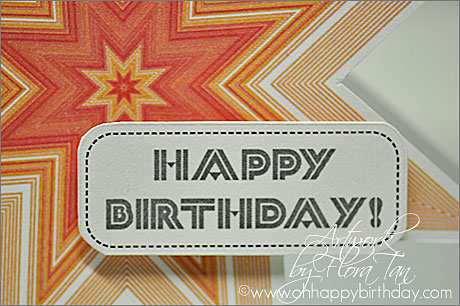 3D Greetings
Variation 1:
Download and print the graphics and words sheet onto white cardstock.
Cut out the star graphic and paste with glue onto a different colour folded square card.
Choose one of the Birthday greetings and cut around it leaving a narrow border.
Paste in front of the star with double-sided foam tape for a 3D look.
Variation 2: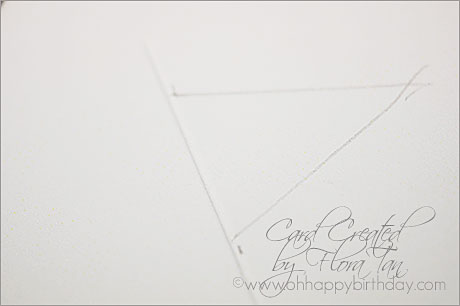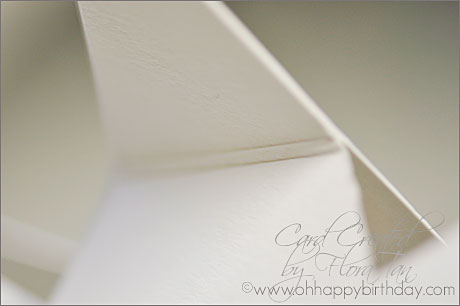 Download and print the graphics and words sheet onto white cardstock.
Cut out the star graphic and lay it on top of another white card.

Use a pencil to lightly draw around one of the points and two marks on both sides of the point. (refer image above)
Remove star graphic.
Use a score tool or empty ballpoint pen to make score line. (refer image above)
Apply glue to the space above the score line.
Lay the star graphic card with the point aligned to the pencil lines.
Make sure the glue is dry and the cut-out star does not move.
Cut the white card below the star with a steel ruler and x-actor knife using the printed star above as guide.
Choose a birthday greeting and cut it out leaving a narrow border all around.
Paste with double-sided foam tape.
You can also just cut out the stars and punch a hole on one of its point to use as a tag, or a birthday party decor.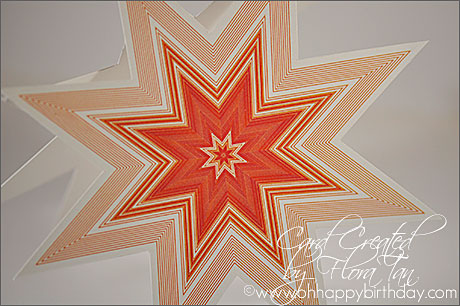 Finally! A Star Birthday Card
Actually, beside cool birthday cards, you could also use this template to make other kind of greeting cards. Just change the greetings and it could turn into a Teacher's Appreciation card or even a Graduation Congratulation card.
More Birthday Card Ideas
Check out Making Greeting Cards site for more cool ideas for your making your own birthday cards.
---
Facebook Comments...Add Yours!