Simple Cupcake Card
This cupcake card was created while I was watching my favourite tv program; Criminal Minds.
Relaxing card! Tense Thriller! What a combination! A prescription for an exciting afternoon indeed. But notice the colours used. I think the show has an influence on the chosen colours of the cupcake. It was supposed to be some kind of candy colours but... :-) Maybe not for little girls. But a teen would surely love this card.
As this is a very simple birthday greeting card design, I don't have to do much thinking so was able to enjoy my show at the same time.
What I did was to take out my Memento tuxedo black ink pad and the Hero Arts' cupcake stamp and stamped an image on my desired card stock which was a off-white natural speckled card.
Then while watching the show, I coloured it with Copic markers.
If you don't have a cupcake design rubber stamp, just make your own. It's very easy. Follow the steps on this Cupcake Birthday Card, one I created for a girl friend.
Copic Markers Used For Cupcake Card
Cupcake Icing: BG09, B14, B12,

Heart: E04, RV00,
Cupcake Wrapper: C10, C5, 0
Beside using the above Copic markers, I also used a white gel pen to highlight certain areas; notably on the icing, the heart as well as the wrapper.
After colouring the stamped cupcake image, I trimmed the image all around very closed to the stamped outline.
Then I applied a small strip of double-sided foam tape onto the centre of the image and set aside.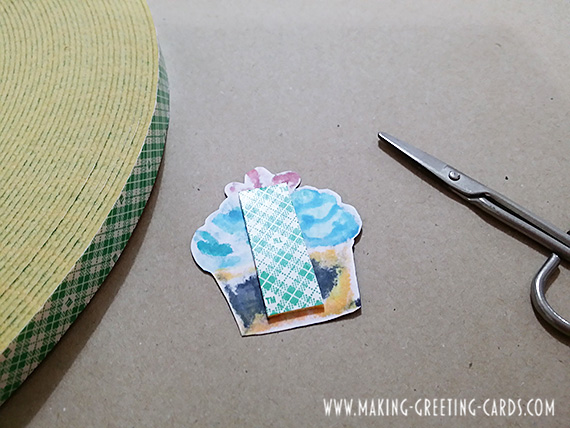 Attaching Coloured Image With Foam Tape
As you can see from the photo above, the copic markers bleeded over to the other side of the image. But this is quite all-right as it's on the underside and no one is going to peek underneath, right? :-)
Once the cupcake image was completed and the bad guy caught (remember, I was still watching Criminal Minds then), I turned to prepare the blank card.
With the same Tuxedo Black ink pad, I stamped 'Happy Birthday' on the bottom front of a folded off-white natural speckled card.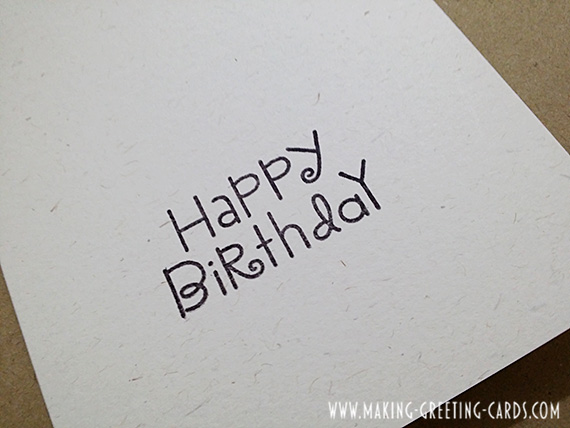 Cool Birthday Greetings! Love This!
Isn't this birthday greetings from Paper Smooches cute?
I love this set of photopolymer stamps so much that I almost reached out to it all the time when I need a whimsical kind of greetings.
The set I referring to here is by Kim Hughes and it's called Birthday Sampler FBS135.
Cool!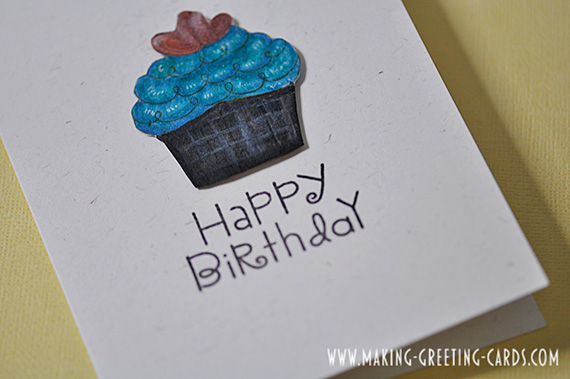 Isn't This Cupcake Birthday Card Cute?
Here's the completed cupcake birthday card. So sweet! So simple! I think I will make a set of them and see whose birthday coming up.
---
Facebook Comments...Add Yours!