Flower Birthday Card
Template Included
This flower birthday card is created simply by placing the rose template over coloured paper and cutting each out one by one.
Click on any image on this page for gallery and expanded view of all the birthday cards/celebration images within this article.
This was actually a mock-up greeting card but after making this and placing the whole assembled piece onto a folded white card, I was rather pleased with the whole look and result that I decided to use it as it is. But most likely, I will also make another with better quality card-stock and use just one colour instead; like white on white. I think that would be really elegant if I do it right.
Flower Birthday Card
This birthday flower card can be placed portrait or landscaped. Right! You can use it either way. But I kind of prefer it standing the other way (above). 
Supplies Used:
Note: Light weight paper might be better suited for this card design as the layering can make the card rather bulky if too thick cards are used.
White cardstock

Template (You'll need the latest Adobe Reader to open this pdf file)
8 sheets of coloured paper of various shades from chocolate to white and yellow and orange in-between.
a pair of scissors
steel ruler
pencil
glue or double-sided tape
glitter glue
Directions:
Cut white cardstock to 15cm x 21cm in size.
Score at 10.5cm and fold. Put aside.
Download the template and print on white plain copy paper.
Cut out the rectangle shape from the printed template.
Cut the darkest colour paper to the same size as the rectangle shape.
Place the shape onto the next darkest colour paper and cut out the outer petal.
Do the same for the rest - darker to lightest until the small half circle with white paper.
Assemble them by layering over one another glue or tape the top of each layer only to one another each at a time.
Use a sharp knife on the edge of the petals. You could also do this step before assembling them.
Trim off any mis-aligned side and glued to the front of the white blank card. The edge of the half circle should align with the fold of the white card leaving a narrow border on the other three sides. (refer to card image above)
Apply glitter glue to the edges and also on the top - centre of the flower.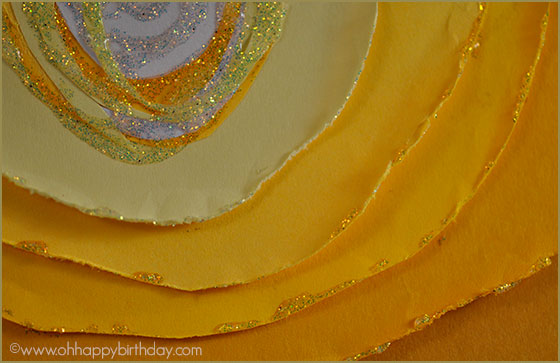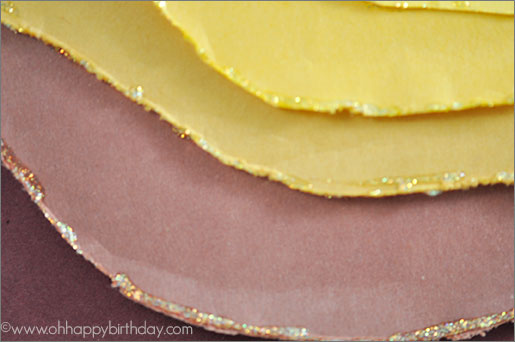 Okay! I hope you like what I have created for you. Try out this flower birthday card with colour vellum or other coloured paper. Add some beads on the centre of the flower. Just throw them in after apply glitter glue.
Enjoy!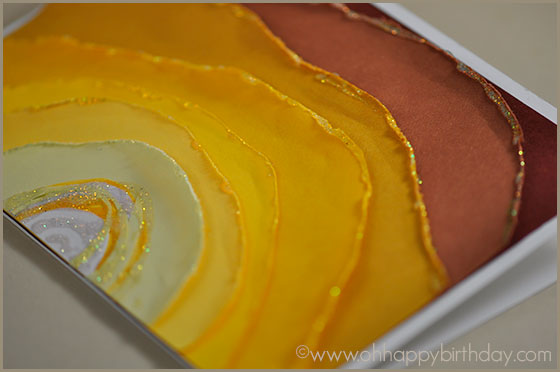 Your Feedback Is Appreciated!
Let me know what you think about this mock-up birthday greeting card. Is it okay to send out as it is? Is there anyway we could improve on it? Love to hear from you. Do add your comment below.
---
Facebook Comments...Add Yours!