Happy Birthday Sweetheart
Happy Birthday Sweetheart
A printable Happy Birthday Sweetheart card for you to download and print for your girlfriend or wife. Though it's a simple birthday card, it does look chic and cool.
Click on any image on this page for gallery and expanded view of all the birthday cards/celebration images within this article.
You could personalised it with a heart shaped or other gem sticker, draw a dotted or dashed frame around it or just doodle something to make it even more special and personal.
Then handwrite a love note inside the card and tell her how special she is to you.
Happy Birthday Sweetheart Card
Card Design:
The design for this card was kept simple. The texts HAPPY BIRTHDAY sweetheart! stacked on top of one another to make it look like a birthday cake topped with a big red heart. i have given it lots of negative spaces for you to decorate as you seem fit. Scroll down to get ideas on how you can personalised this birthday card for her and make it one-of-a-kind for your special girl.
Download:
Click here to download template.
You'll need the latest Adobe Reader to open this file. If you don't have it in your computer or not have the latest version, just go to www.adobe.com to download it for free.
Directions & Ideas:
Print at home or at a copy center such as Staples or Kinkos. Best when printed on 160 - 200 gsm bright white card stock but you could also use kraft card stock for a different look.
Cut with scissors or paper trimmer following the printed trim marks.
I suggest that you score and fold the card first before cutting.
Use glitter pens, gel markers or stickers to personalise this Happy Birthday Sweetheart card.
For example, you could paste a heart sticker on the centre of the red heart just like I did (refer to images) or fill the heart with glitter glue.
You could also use a black fine marker to draw in dots or dashes to make a frame about 0.25" from the edges, or gel pens to add more hearts or smiley faces.
Use a rounder punch on the top right and bottom left corners or round all corners if you like. The possibilities are endless!
Card size when folded is 4.25" x 5.5"(portrait). You could enlarge if you like but not too drastically. File resolution at 300 pixels.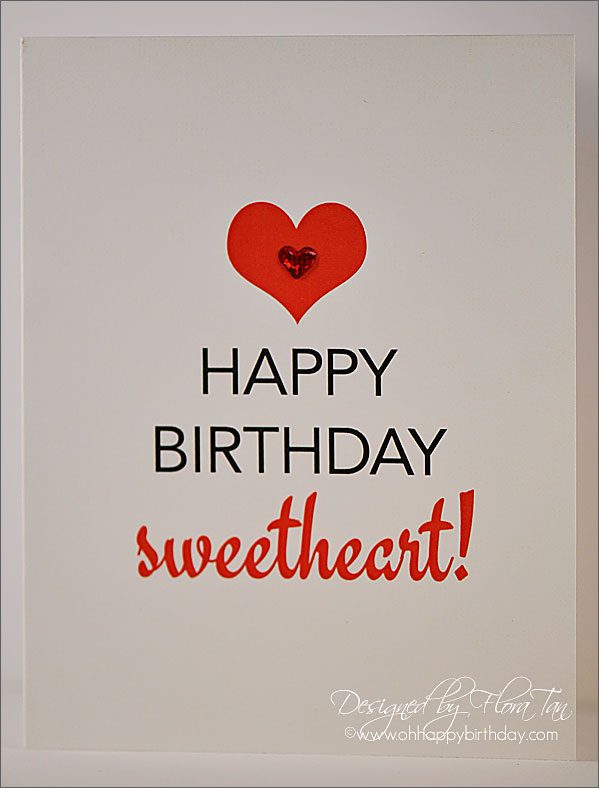 Copyright Note:
Strictly for personal use only.

Not intended to be resold as is, bundled with other items or as freebie to your readers.
To Bloggers! You can share this card with your blog's readers by hyperlinking to this page and not to the template.
For More Birthday Card Ideas
Check out Making Greeting Cards for more card ideas to make your own handmade birthday greeting cards.
---
Share Your Thought About This Article
Facebook Comments...Add Yours!