HappyBirthday
Wishes All Year Long
Sending HappyBirthday wishes to every person in your contact list or long list of Facebook friends each year doesn't need to be too difficult if you have a systematic way of noting down their birthday and at the same time have a stash of birthday cards bought or made and ready to send out any time of the year.
Click on any image on this page for gallery and expanded view of all the birthday cards/celebration images within this article.
There are some birthday greetings that are general enough to be sent to anyone whether a close friend, a colleague or a new acquaintance. It would be good to have a couple of these in your collection so that when the need arises and you are not feeling too creative to make one.
If it's for someone close and intimate you could always add a more personal birthday message inside the birthday greeting card.
Stamped HappyBirthday Wishes
Below is one such handmade card that can be send or given to the birthday person for a belated birthday greeting. It is also versatile enough for most people. If it's for a guy, I would change the color of the paint splashes to a more masculine palette and omit the glitter glue on the dragonflies. What do you think?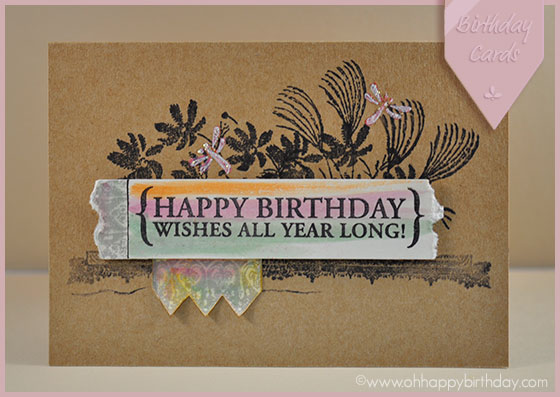 Birthday Card
This collage style birthday greeting card is actually quite simple to make and more important, the design is very forgiving even for someone new at card-making.
What you need is one or two foliage design rubber stamps or clipart and stamp them in black ink on the card front. I have chosen to make a landscape card because the message takes up quite a big portion of the space and is rather long. And since I'm using kraft card stock which has a deep rustic look, I decided that black would stand up better. 
First, I stamped the words on a off white piece of card stock and trimmed it to size. On second thought, I tore off the right side to give it a rough and raw look. I also stamped a strip of lacy print and cut and tear it into smaller pieces and glued these to the left and bottom of the message.
Putting that aside, I turned my attention to the kraft card and inked up the foliage stamp with permanent black ink and make a print on the centre of the card. I also stamped a strip of grunge design below it.
Then using double-sided foam, I attached the words on top of the stamped images positioning it for a pleasing look. The dragonflies were an after-thought. I just need something to suggest movement in the piece and as the dragonfly stamp was included in the foliage stamp set, it kind of suggest itself as the best solution for this.
Another after-thought was to add splashes of watercolors with my brush. That's it! 
Oh! Not forgetting using a white gel pen to go over the red stamped dragonflies and then add glitter with a toothpick.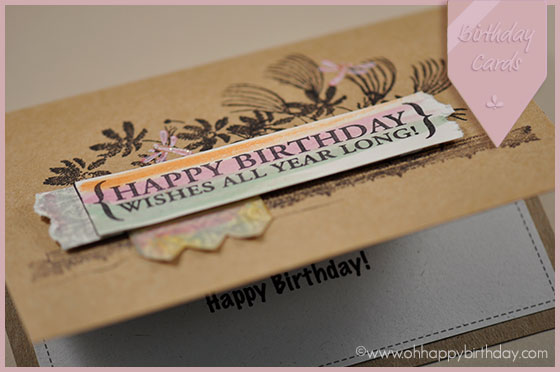 Stamps Credit
Foliage and dragonfly stamps by Kodomo Inc
HappyBirthday Wishes All Year Long! by Hero Arts
Grunge design stamps by Unknown (There's no indication of who the manufacturer is on the packing. Strange!)
Card Insert
And here's what I put inside this Happy Birthday card. I have created a few sheets of these card inserts for you to download and print. Click here to go to the download page.
Your Feedback Is Appreciated
Do let me know what you think about this article or birthday greeting card design. Have you any idea or suggestions to add to this? Really love to hear your view. Do so by commenting below. Thanks!
---
Facebook Comments...Add Yours!