40th Birthday Card
Japanese Woodcut Design
A beautiful 40th birthday greeting card with a flower design just like a Japanese woodcut in bright reddish-yellow colour to excite the senses of a 'young lady':-)
Let's make a lovely printed Birthday Card for Her!
"You're not getting older...just more fabulous!"
These words will surely assure one who might be concerned that age is catching up on her and that her look is a reflection of her age.
The vibrant colour in this lively birthday card should bring a smile to any recipient of this greeting card and perk up anyone who is feeling blue and moody about her increasing age and waning look.

Card Making Supplies Needed:
A4 or letter size white heavy weight paper
colour printer
pencil
steel ruler
eraser
bone folder or empty ball-point pen
x-acto knife or paper cutter
cutting mat
card template
Card Making Instructions:
Below is an idea of how the birthday greeting card looks like when you open out the file.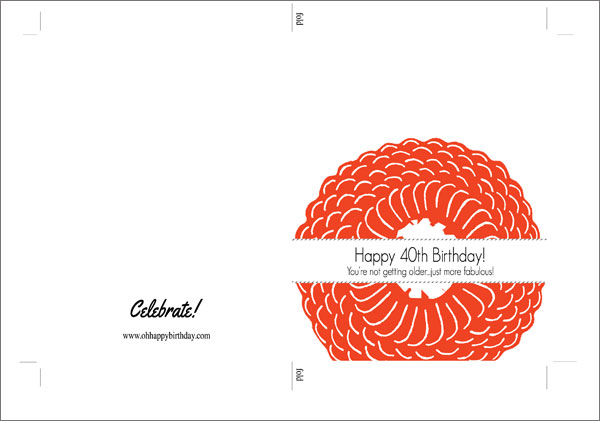 40th Birthday Template Usage
This card design and its template is for personal use only. Please do not download to print and sell cards created with this printable on etsy, your blog, retail stores or any other places or web-stores. Strictly for your personal use only.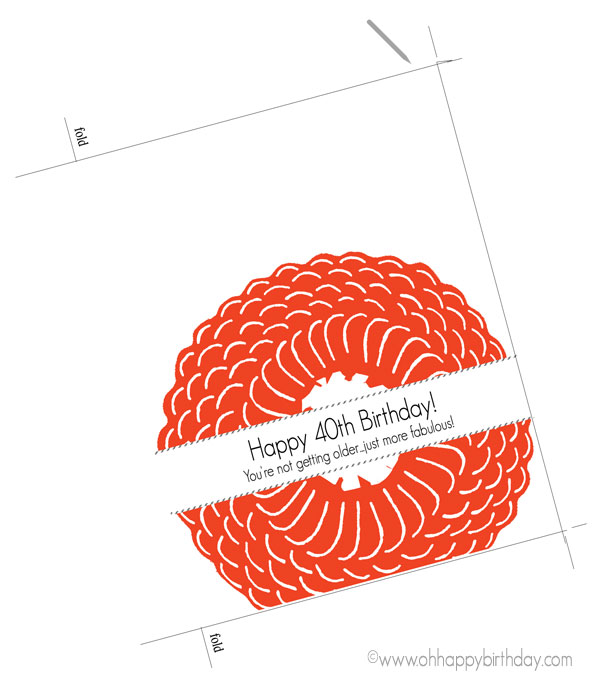 Directions:
Download card template (zip file)
Unzip the downloaded file
Print with white heavy weight paper
Draw lightly with pencil cutting lines using the printed marks as guide
Score the fold line with empty ball-point pen and steel ruler
Cut with x-acto knife or paper cutter along pencil lines

Erase pencil lines if visible
Fold on scored line to finish your home printed birthday card
What do you think?
Won't this cheer up any brooding gal?
Won't any sad and moody gal be energised by this upbeat and colorful greeting card?
I would!:-)
I'm happy just looking at it. The bright red colour just lift up my spirit. But then, I'm always happy whenever I'm surrounded by colourful things. :-) and this Chinese red is just so bright and beautiful.
I love it!
Japanese Woodblock Printing
This digital flower print was inspired by the beautiful prints created by Japanese woodblock printing. Click here to find out more about this printing technique and it's origin. An interesting read.
---
Facebook Comments...Add Yours!