Printable Birthday Cake Card
This birthday cake card was created digitally in Adobe Illustrator and then brought over to work further in Photoshop.
Click on any image on this page for gallery and expanded view of all the birthday cards/celebration images within this article.
It's a simple hand-drawn 3-tiers cake with 5 pastel candles and the Happy Birthday greetings. (See image below) 
---
Make this Birthday Cake Card
I have created two pdf files for you as I know that many of you use Letter size card stocks whereas we in Asia use A4 size paper and card stocks.
So everyone's covered :-)
Modified card - the final version with front background colour. The samples below used this version.
How to Make the Cake Card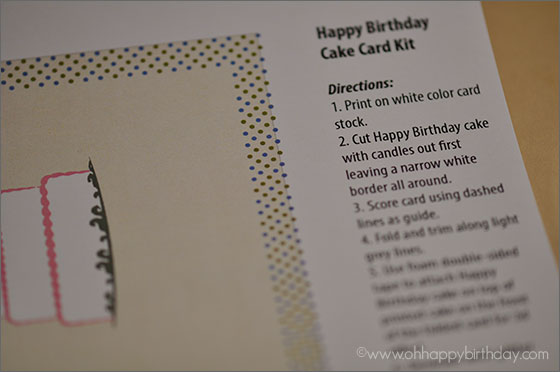 Direction Included
As you can see from the above image, clear instruction is included in the printable file.
Just follow the given direction and you should be okay. If you are still unclear, have a look at this page where I will try to explain in more detail.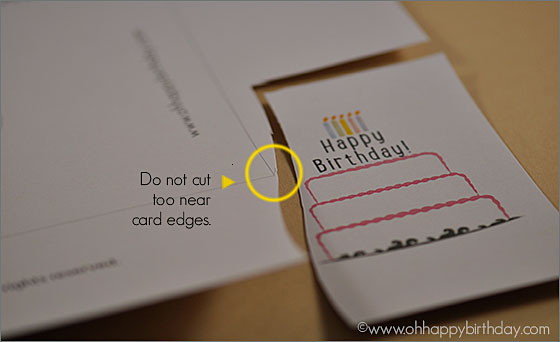 Cut out the birthday cake
First, cut out the birthday cake graphic. Make sure that you do not cut too near the main card edges. 
Score the centre of card
Follow the printed marks, use a scorer or a letter opener together with a steel ruler to score the centre of the card so that you can fold easily and neatly later.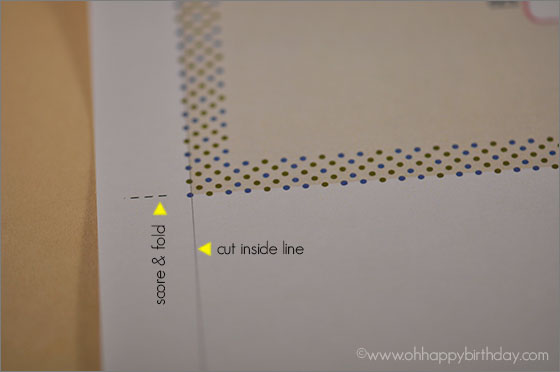 Pencil lines for easy cutting
Draw lightly with pencil to help facilitate cutting later. You don't want to trim off one side and found that the printed marks are gone. So the drawn pencil lines will help.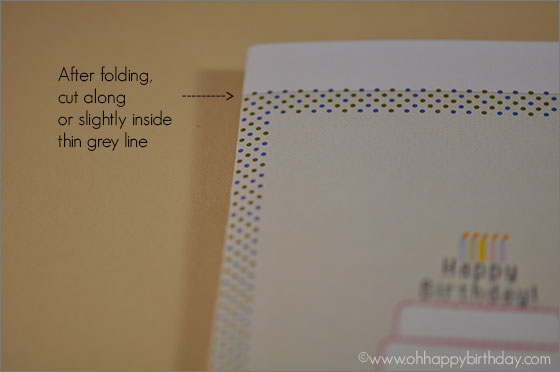 Fold and cut
Fold along the scored line, use your thumb and finger or the scorer to make a clean crease, then cut the card along the lightly drawn pencil lines.
Layer the cake over the front of card
Now to layer the cake graphic over the front of the cake card.
You can leave the card as it is if you like. (optional)
I included the cake image on the base card anyway.
Double-sided Foam Tape
To make your birthday card looks 3d, just use double-sided foam tape then paste the cut-out cake on top.
Add glitter glue on icing
Now, it's time to add glitter to the icing of the cake. I applied Ice Stickles - diamond by Ranger with a toothpick on the 3-tiers cake outline as well as on the candle flames.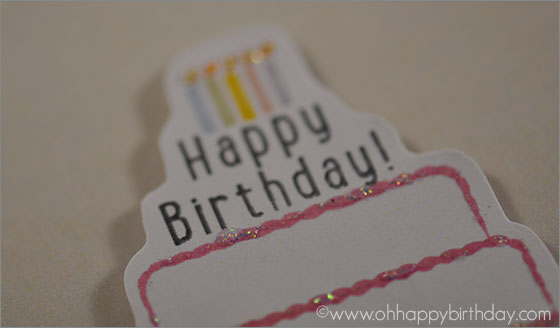 Glitter on Icing of Cake
Note: 3D effect by raising the cut-out with double-sided foam tape and some sparkles with glitter glue.
Below is a view of the completed card. Hope you like it.
Do comment and share below if you like it. I'll appreciate that very much.
Enjoy!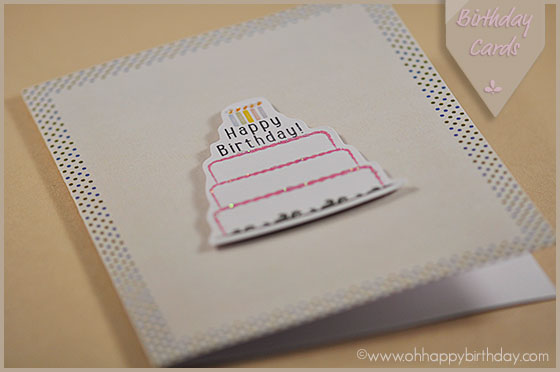 Completed Happy Birthday Card
---
Facebook Comments...Add Yours!